We move Commercial and Residential freight from Wichita to Canada
Shipping Confidently with regular and expedited service.
Of the various cities ShipCanada services in Kansas, shipping Wichita to Canada is by far our most popular lane we fill. This city is also a natural consolidatioh point for freight originating along the corridor to Oklahoma City. While most of the the LTL freight moving into and out of this city is domestic U.S. trade, we are seeing industrial goods and consumer package cargo crossing the border with moderate volumes. With this region's location being almost exactly in the canter of the U.S. mainland, there is naturally a higher volume of truck traffic moving through the state that can acoomodate any export shipment. Shipcanada provides bi-weekly service from this city to eastern & western Canada for all types of dry freight as well as FTL service as needed. The transit time for this lane ranges between 2-3 days for Mississauga, ON and 2-4 days for Edmonton, AB depending on what you are shipping, the pickup/drop-off locations and the mode of transport. If over-the-road freight is not fast enough ShipCanada can also offer Next-Day Air Freight options. We also offer direct service into Fort Worth.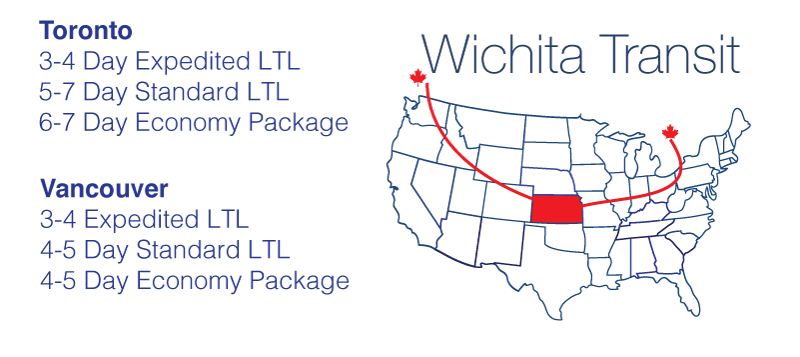 For the best economy shipping rates on freight that is not time sensitive we offer Rail Intermodal service to all points west of Ontario. For regular freight shipments with medium time sensitivity we offer economy over the road rates. If your freight has to get to its destination faster our customers can choose Expedited LTL service which basically mirrors truckload transit times. Regular and expedited services are also available for International shipping requirements ShipCanada extends its U.S. pickup service far east as New York.
For freight that is absolutely time sensitive (meaning hours) we offer air freight service. Give us a call. We can get the job done. Call or email us today for a freight quote. Our Customer Service Line is: 1-888-308-4872.