We move Commercial and Residential freight from Vancouver to Moncton
Shipping Confidently with regular and expedited service.
ShipCanada moves Canada forward with service for all freight types to and from all major cities in Canada and the U.S.A. Our transit service extends far east to the various points surrounding the city of Moncton. This city is growing and is becoming regular for our Less than truckload and large package service network. We accommodate virtually every commercial load type including Flatbed to and from all points in this lane. The typical transit time for this lane is 8-10 business days with exceptions depending on the pickup/drop-off locations and the mode of transport. If regular LTL freight is not fast enough ShipCanada can also offer expedited service. Our carriers also make daily stops in Toronto, ON. as well as in Halifax, NS.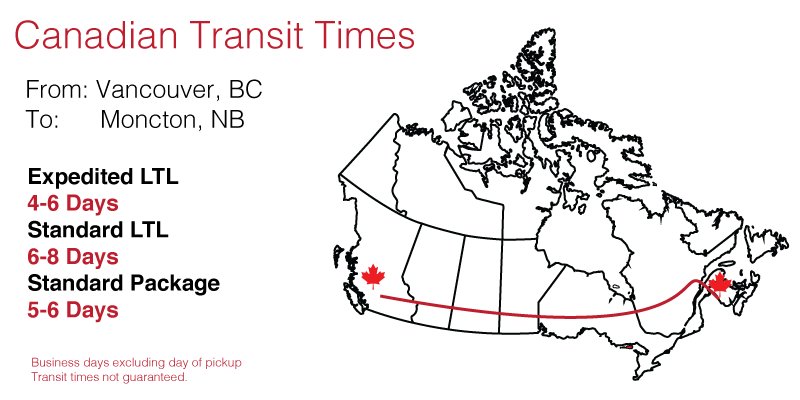 For the most economical rates and transit times you can access our terminal map to determine the most direct route between two cities. ShipCanada offers Rail Intermodal service to all points west of Ontario. If your freight has to get to its final consignee faster our customers can choose expedited LTL service which basically mirrors truckload transit times. Regular and expedited services are also available for International shipping requirements.
Note: Most trucks providing beyond service to eastern Canada makes terminal stops in either Toronto to Montreal.
For freight that is absolutely time sensitive (meaning hours) we offer air freight service. Give us a call. We can get the job done. Call or email us today for a freight quote. Our Customer Service Line is: 289-813-4024.