We move Commercial and Residential freight from the Saguenay, QC Area
Shipping Confidently with regular and expedited service.
In the province of Quebec, most people would agree thst Montreal and Quebec City stand out as the region's most notable cities. While Saguenay, QC may not be as well know as it's two larger neighbors - it does make a significant impact when it come to trade within the province. Located along the Riviere Saguenay, this dynamic city connects Lake Saint-Jean with the very important St. Lawrence River. ShipCanada™ schedules and completes bi-weekly pickup and delivery format within the city including package, LTL consolidation and full truckload service. The general transit time for this town is 2-3 service from Toronto and 7-8 days from Vancouver depending on what is being shipped, the pickup/drop-off locations and the mode of transport. If standard LTL freight is not fast enough ShipCanada can also offer expedited hot-shot service. Our carriers also make daily stops in Oshawa, ON.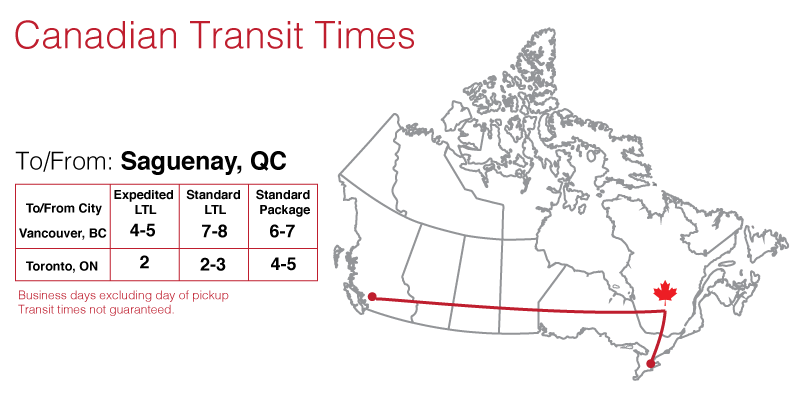 We offer deeply discounted rates with avsilable transit you can easily access on our freight quote page that can offer both regular and time sensitive service. ShipCanada offers intermodal service to all points west of Ontario. For regular freight shipments with medium time sensitivity we offer economy over the road rates. If your freight has to get to its destination faster our customers can choose Expedited LTL service which basically mirrors truckload transit times. Regular and expedited services are also available for international shipping requirements.
For freight that is absolutely time sensitive (meaning hours) we offer air freight service. Give us a call. We can get the job done. Call or email us today for a freight quote. Our Customer Service Line is: 1-888-308-4872.