We move all freight types to North Bay, ON from any point in Canada or the U.S.A.
Shipping Confidently with regular and expedited service.
Trucks following the 417 route out of Ottawa will eventually fiund themselves in North Bay, ON. This route carefully makes its way above Algonquin Park (Ontario's largest provincial park) and terminates at Lake Nipissing. This city is a popular stop for fuel and other supplies for travellers and commercial trucks heading towards Winnipeg. Positioned so far North of the industry-rich Southwestern Ontario, This entire municipality really didn't see much trade outsicde its borders until the Canadian Pacific Railway made its way through in the late 1800's. ShipCanada consolidates LTL shipments for this corrid on a weekly basis and can arrange Flatbed transport as requested. Expedited service usually results in a next-day delivery time.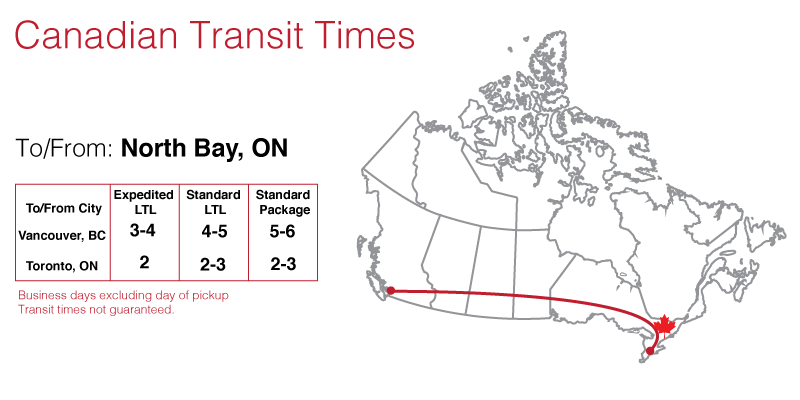 For shipments that are lees that 150 lbs. please visit our section on shipping Large Packages in Canada. For cargo that is not time sensitive we offer intermodal service to all points west of Ontario. For regular freight shipments with medium time sensitivity we offer economy over the road rates. If your freight has to get to its destination faster our customers can choose Expedited LTL service which basically mirrors truckload transit times. Regular and expedited services are also available for international shipping requirements.
For freight that is absolutely time sensitive (meaning hours) we offer air freight service. Give us a call. We can get the job done. Call or email us today for a freight quote. Our Customer Service Line is: 1-888-308-4872.