We move Commercial and Residential freight from the Niagara Falls, ON area
Shipping Confidently with regular and expedited service.
The beautiful and picturesque city of Niagara Falls, ON is known worldwide as place where couples vacation amidst the backdrop of one of the world's great wonders. The hospitality industry which is the predominant economic driver in this municipality also commands a high volume of transportation resources. Aside from being a throughfare for a significant amount cross-border traffic of all kinds, we see this region being a strategic centre for exporting companies to access the U.S. market. ShipCanada provides LTL freight from eastern & western Canada coming into the city and can also offer expedited hot-shot or direct load-and-go service. We also make daily pickups in Kamloops, BC as well as to Pickering, ON.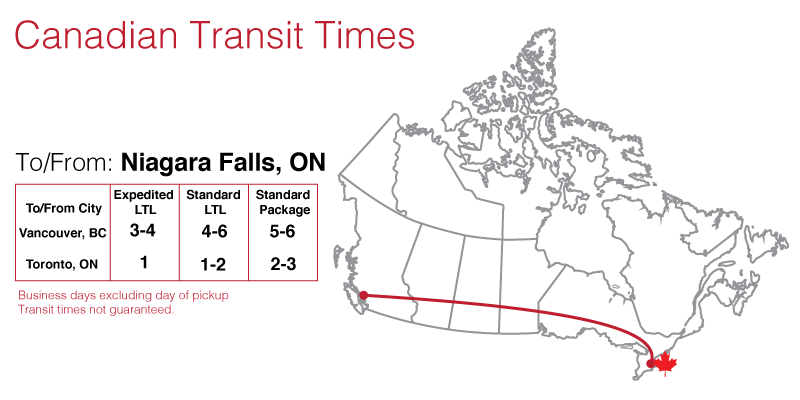 To access service rates and transit times you can access our freight quote page that can offer both regular and time sensitive service. ShipCanada offers Rail Intermodal service to all points west of Ontario as an alternative to over-the-road service. For regular freight shipments with medium time sensitivity we offer economy over the road rates. If your freight has to get to its destination faster our customers can choose Expedited LTL service which basically mirrors truckload transit times. Regular and expedited services are also available for International shipping requirements.
For freight that is absolutely time sensitive (meaning hours) we offer air freight service. Give us a call. We can get the job done. Call or email us today for a freight quote. Our Customer Service Line is: 1-888-308-4872.