We move all freight types to Medicine Hat, AB from any point in Canada or the U.S.A.
Shipping Confidently with regular and expedited service.
A popular stop en-route to Calgary along the TransCanada highway is the city of Medicine Hat, AB Located along the Alberta/Saskatchewan border, this town has been steadily growing over the last 2 decades and is currently reaching a population of approximately 70,000. The town began its growth when the Canadian Pacific Railway crossed the South Saskatchewan River and a town was established. This region also plays an important role in the Western Canada supply chain as it represents the point where the national HWY#1 intersects with Highway 42 coming down from Northern Alberta. Western provinces from this municipality generally have freight consolidated in Calgary for ultimate delivery in either direction with a transit time ranging from 5-9 days for provinces East of Ontario. ShipCanada can offer team-driver service to this town for more time-sensitive TL or LTL freight.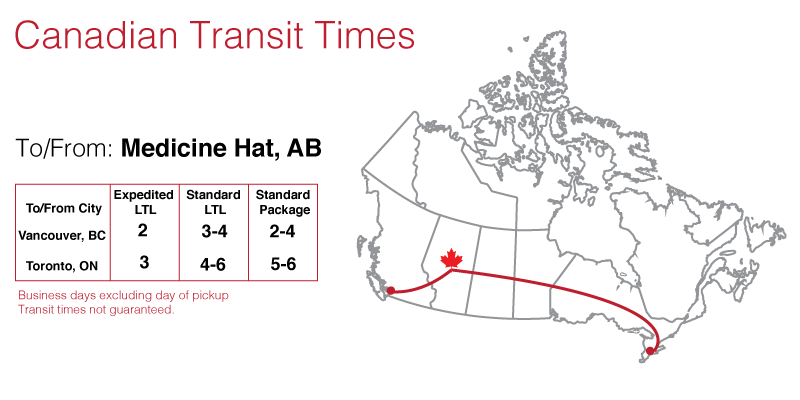 For the best economy shipping rates on freight that is not time sensitive we offer Rail Intermodal service to all points west of Ontario. For regular freight shipments with medium time sensitivity we offer economy over the road rates. If your freight has to get to its destination faster our customers can choose Expedited LTL service which basically mirrors truckload transit times. Regular and expedited services are also available for International shipping requirements.
For freight that is absolutely time sensitive (meaning hours) we offer air freight service. Give us a call. We can get the job done. Call or email us today for a freight quote. Our Customer Service Line is: 1-888-308-4872.