We move Commercial and Residential freight from the Halton Hills Area
Shipping Confidently with regular and expedited service.
Generally speaking, when referencing the Halton Hills area as a delivery address, we usually find our customers referencing the better known town of Georgetown. A quick glance, however, will show two other towns - Hornby & Ashgrove, which are also noteworthy in this municipality. This region, which is comprised of approximately 65 thousand residents, is a mixture of rural and built-up communitites. As a convenient stop along the busy 401 corridor, this area can be serviced with relatively similar transit times as the Greater Toronto Area (GTA). LTL cargo and large packages picking up or deliverring to this town are usually consolidated in neighboring Mississauga or Brampton. If standard LTL times are not quick enough, ShipCanada can also offer expedited hot-shot service for freight and parcels. Our carriers also make daily stops in Belleville, ON.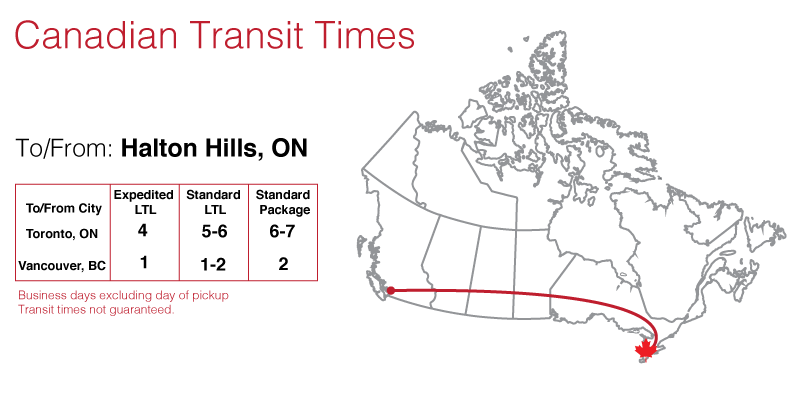 For the best economy shipping rates on freight that is not time sensitive we offer Rail Intermodal service to all points west of Ontario. For regular freight shipments with medium time sensitivity we offer economy over the road rates. If your freight has to get to its destination faster our customers can choose Expedited LTL service which basically mirrors truckload transit times. Regular and expedited services are also available for International shipping requirements.
For freight that is absolutely time sensitive (meaning hours) we offer air freight service. Give us a call. We can get the job done. Call or email us today for a freight quote. Our Customer Service Line is: 1-888-308-4872.