We move Commercial and Residential freight to & from Caledon, ON
Shipping Confidently with regular and expedited service.
In the last two decades, Caledon,ON, located in the regional municipality of Peel has transitioned itself from being a largely rural area to an up and coming growth story. With its close proximity to the Greater Toronto Area and its access to the 400 series highway infrastructure, this town is a natural consideration for commercial and industrial applications. some of the more notable companies that call this include the Canadian Tire Distribution Centre and Husky Injection Molding. Along with this town commerical rise, there has been a marked increase is residential de elopment in the area which has acceresltred the pace of retail shipping space under development. The transit time for this region is generally same-day service from Toronto and 2-3 day expedite service from Winnipeg, MB. If ground freight is not fast enough ShipCanada can also offer Next-Day Air Freight options. Our carriers also make daily stops in Mississauga.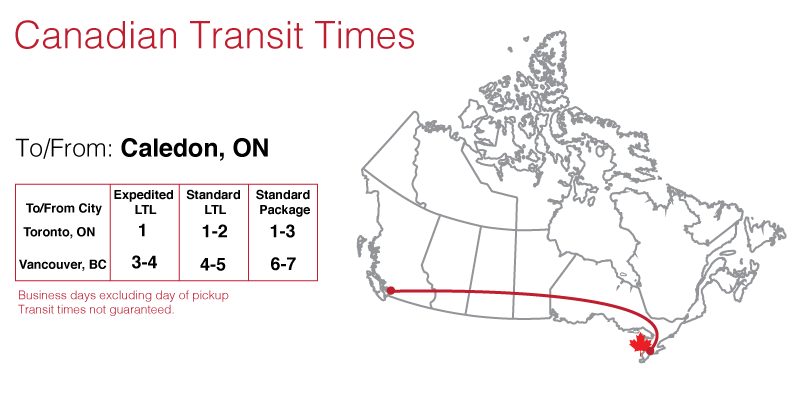 For the best economy shipping rates on freight that is not time sensitive we offer Rail Intermodal service to all points west of Ontario. For regular freight shipments with medium time sensitivity we offer economy over the road rates. If your freight has to get to its destination faster our customers can choose Expedited LTL service which basically mirrors truckload transit times. Regular and expedited services are also available for International shipping requirments.
For freight that is absolutely time sensitive (meaning hours) we offer air freight service. Give us a call. We can get the job done. Call or email us today for a freight quote. Our Customer Service Line is: 1-888-308-4872.