We move Commercial and Residential freight from the Greater Airdrie, AB Area
Shipping Confidently with regular and expedited service.
Approximately 30 miles outside the city of Calgary is the quiet bedroom community of Airdrie, AB. This is another Alberta city than began is life as a staging point for the one of the ambitous railroad projects in the late 1800's. As the first stop on the busy corridor between Calgary and Edmonton; this municipality has grown to a population of just under 70,000 and is emerging as an important industrial area. Freight and package cargo destined for this town is consolidated in Calgary and sent out 2-3 times per week as volume necessitates. If general LTL transit times are not fast enough, ShipCanada can also offer expedited hot-shot service for freight and large parcels. Our carriers also make daily stops in Calgary.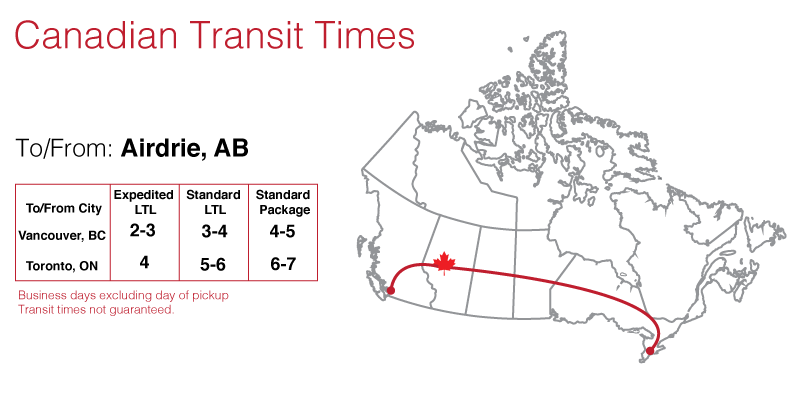 For the best economy shipping rates on freight that is not time sensitive we offer Rail Intermodal service to all points west of Ontario. For regular freight shipments with medium time sensitivity we offer economy over the road rates. If your freight has to get to its destination faster our customers can choose Expedited LTL service which basically mirrors truckload transit times. Regular and expedited services are also available for International shipping requirements.
For freight that is absolutely time sensitive (meaning hours) we offer air freight service. Give us a call. We can get the job done. Call or email us today for a freight quote. Our Customer Service Line is: 1-888-308-4872.