We move Commercial and Residential freight from San Diego to Canada
Shipping Confidently with regular and expedited service.
One of our mid-range volume lanes is shipping San Diego to Canada. This city is located at a popular border crossing on the edge of Tijuana, however the commerical trade at this crossing is lower compared to the alternate Mexican crossings. The region itself, however, commands significant inbound resources as the popluation of this city is approximately 1.5 million. Most of the freight moving northbound from this area is consolidated at terminals in Los Angeles for furtherance. The average transit time to Toronto is 4-6 day service for less than truckload quantities and 3 business days for Truckload.
ShipCanada schedules LTL trucking services on a weekly basis moving north and east for most freight types from dry freight to flatbed freight and large package cargo. The transit time for this state ranges between 4-5 to Toronto and 5-6 days to Edmonton, AB depending on what you are shipping, the delivery locations and the mode of transport. If ground freight is not fast enough ShipCanada can also offer Next-Day Air Freight options. We also ofer direct service into Phoenix.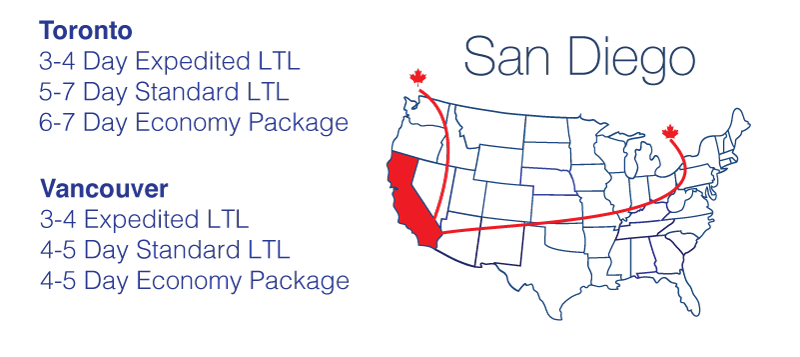 For the best economy shipping rates on freight that is not time sensitive we offer Rail Intermodal service to all points west of Ontario. For regular freight shipments with medium time sensitivity we offer economy over the road rates. If your freight has to get to its destination faster our customers can choose Expedited LTL service which basically mirrors truckload transit times. Regular and expedited services are also available for international shipping requirements. ShipCanada service extends as far North as Chicago.
For freight that is absolutely time sensitive (meaning hours) we offer air freight service. Give us a call. We can get the job done. Call or email us today for a freight quote. Our Customer Service Line is: 1-888-308-4872.