We move Commercial and Residential freight from San Antonio to Canada
Shipping Confidently with regular and expedited service.
A consistently busy traffic lane in North America is the corridor for shipping San Antonio to Canada. This growing city is the largest municipality after crossing at the Nuevo Laredo Border from Mexico. Many of the goods (especially agricultural goods originating south of the U.S. border) cross into Laredo before being distributed all over the U.S. and Canada. The northbound capacity for this city is also impressive as many of the trucks that bring freight down to the border become available to bring freight north. There are many crossdock hubs in this city serving as consolidation hubs and the region's population of approximately 1.5 million commands a high volume of last-mile delivery traffic. Transit time to Vancouver and to Toronto are both 3-4 days for truckload or expedited LTL (including perishable goods) If the freight is moving in-bond (as is often the case) this can be arranged by notifying your logistics coordinator.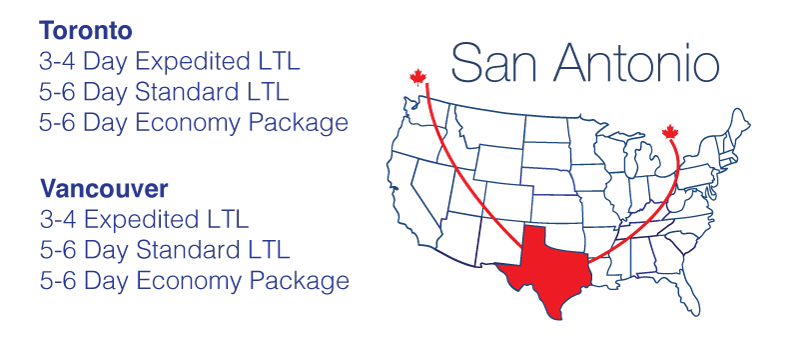 For economy shipping quotes on freight that is not time sensitive we offer Rail Intermodal service to all points west of Ontario. For regular freight shipments with medium time sensitivity we offer economy over the road rates. If your freight has to get to its destination faster our customers can choose Expedited LTL service which basically mirrors truckload transit times. Regular and expedited services are also available for international shipping requirements. ShipCanada service extends as far North as Atlanta.
For freight that is absolutely time sensitive (meaning hours) we offer air freight service. Give us a call. We can get the job done. Call or email us today for a freight quote. Our Customer Service Line is: 1-888-308-4872.