We move Commercial and Residential freight from Minneapolis to Canada
Shipping Confidently with regular and expedited service.
The logistics for shipping Minneapolis to Canada generally involves two main routes. When LTL is consolidated in this city it either moves east through the Chicago corridor, or it moves north and is grouped with westbound Canadian freight in Winnipeg, Manitoba. This region is a moderate to heavy supplier of industrial goods to its northern neighbor. While commercial goods make up the majority of cross-border trade, we are seeing a slight increase in the volume of residential & last-mile delivery requests terminating in the city and its suburbs. As one of the most populous areas of the state, ShipCanada maintains a bi-weekly transport schedule for most types of freight. The average transit time to Southern Ontario is 2 day service for truckload and expedited LTL. Many carriers moving freight into western Canada form this city make the transit in 2-3 days depending on the type of freight being shipped. The posted transit time for this the state below is for standard Less than Truckload sevice and ranges between 2-3 Toronto and 4-5 days to Richmond, BC. If OTR freight is not fast enough ShipCanada can also offer Next-Day Air Freight options. We also ofer direct service into Cleveland.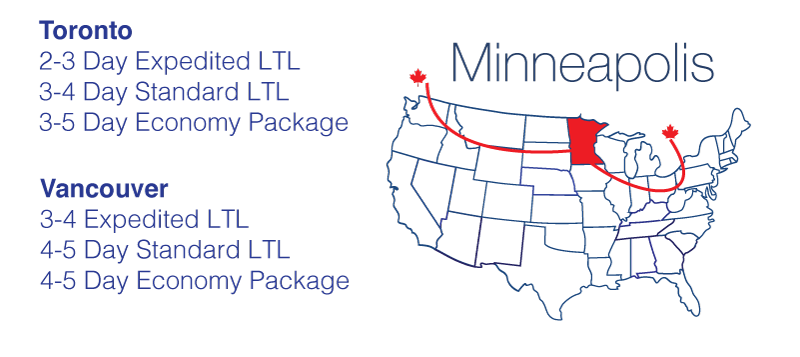 For economy shipping quotes on freight that is not time sensitive we offer Rail Intermodal service to all points west of Ontario. For regular freight shipments with medium time sensitivity we offer economy over the road rates. If your freight has to get to its destination faster our customers can choose Expedited LTL service which basically mirrors truckload transit times. Regular and expedited services are also available for international shipping requirements. ShipCanada service extends as far North as Chicago.
For freight that is absolutely time sensitive (meaning hours) we offer air freight service. Give us a call. We can get the job done. Call or email us today for a freight quote. Our Customer Service Line is: 1-888-308-4872.