We provide Commercial & Residential
Liftgate Service
Shipping Confidently with regular and expedited service.
ShipCanada provides Liftgate / Tailgate pickup and delivery service to and from all points within Canada.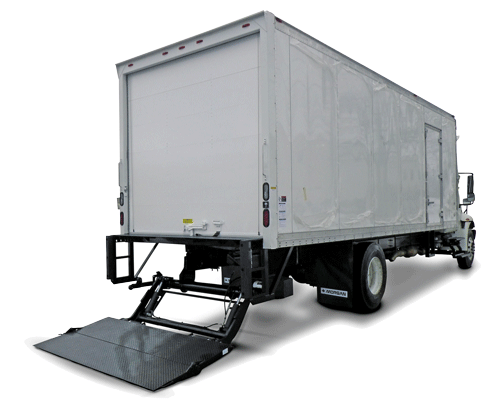 Many Small businesses or residential shippers do not have loading docks or forklifts at their disposal to accommodate the lifting of large freight pieces into commerical trucks. In the this case, ShipCanada will dispatch a smaller 24-26' straight truck with a hydraulic liftgate to assist with loading.
With liftgate service there are certain restrictions on weight and dimensions you should be aware of:
Canadian Tailgate load size Maximums
Max Length
96"
Max Width
48"
Max Height
84"
Max Weight
1500
U.S.A. Tailgate load size Maximums
Max Length
84"
Max Width
54"
Max Height
84"
Max Weight
1500
When residential curbside delivery is not possible we can hold your freight at any one of a network of terminals across the country. If ground freight is not fast enough, ShipCanada can also offer Next-Day Air Freight options. For the most efficient way to ship large items, please see our guide on how to prepare for shipping Our service for LTL freight extends to all Canadian provinces with both regular economy rates as well as fast-as-flight expedited service.
For the best economy shipping rates on freight that is not time sensitive we offer Rail Intermodal service to all points west of SK. For regular freight shipments with medium time sensitivity we offer economy over the road rates. If your freight has to get to its destination faster, our customers can choose Expedited LTL service which basically mirrors truckload transit times. Regular and expedited services are also available for International shipping requirments
For freight that is absolutely time sensitive (meaning hours) we offer air freight service. Give us a call. We can get the job done. Call or email us today for a freight quote. Our Customer Service Line is: 289-813-4024