We move Commercial and Residential freight to & from Sault Ste. Marie
Shipping Confidently with regular and expedited service.
One of the lesser talked about border crossings is the Sault Ste. Marie international bridge into Michigan. Located on the St. Marys River, it serves a population of approximately 75,000 people and was once known primarily as a steel town. After a push to diversify its economy, the "Sault", as it is known, has expanded its local economy to include industries such as aviation and alternative energy to name a few. One of our less regular transit routes for cargo, ShipCanada services this community on an as needed basis with shipments arrranged to accommodate commercial and residential load types including oversize cargo to and from all points in this corridor. The typical transit time for this lane is 4-5 business days from Toronto depending on what you are shipping, the pickup/drop-off locations (whether commercial or residential) and the mode of transport. If regular OTR freight is not fast enough ShipCanada alternate methods of transport are available. Our carriers also make daily stops in Prince George, BC.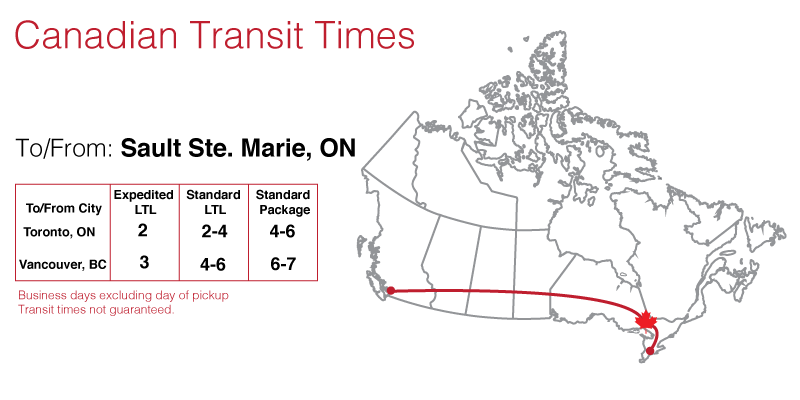 For the most economical rates and transit times you can access our freight quote page that can offer both regular and time sensitive service. ShipCanada offers Rail Intermodal service to all points west of Ontario. For regular freight shipments with medium time sensitivity we offer economy over the road rates. If your freight has to get to its destination faster our customers can choose Expedited LTL service which basically mirrors truckload transit times. Regular and expedited services are also available for International shipping requirements.
Note: While Sault Ste. Marie can be used as a convenient border crossing for freight originating various parts of North Ontario
For any shipment that is of an absolute urgent nature, we offer air freight service. visit our quote link today for an online quote. Our Customer Service Line is: 1-289-813-4024